$179 Electric Car
Did you see the $179 electric car ad on Facebook?
When It's Too Good to Be True…
Something caught my attention and I wish to bring it to your attention too.  I was scrolling through Facebook like usual when an ad crossed my feed that stopped me in my tracks.  An electric vehicle for only $199.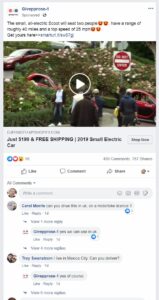 Because I have an interest in electronic vehicles, I stopped to take a look.  I'm thinking "No way can you buy a small electronic vehicle like this one for only $199".  So, I clicked on the Shop Now button and I was taken to their online website.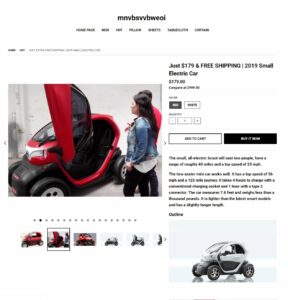 Right away, the warning signs started flashing, WARNING WARNING, DON'T DO IT!
I'd like to say I'm smart enough to see online scams like this one but unfortunately, I've fallen for a similar scam only a few months  ago as I was searching for a new pool vacuum and found a deal that seemed too good to be true from a Google ad and went to the website and attempted to purchase it.  My credit card company stopped the transaction right away, but was it too late?  Did the fake company get my credit card number already?
Warning Signs of an Online Scam
As a seasoned eCommerce seller, and having already been scammed like this before, I noticed things that quickly suggest this was not a legitimate online merchant with a legitimate product.
The account name is a jumbled mess of random letters
The store URL is a Shopify sub-domain
The About Us page has no identifying statements about the actual seller
The online store is using a very basic startup template
The products offered are few and not related
Most of all, the prices are extremely low and unrealistic
Interesting, as time passes, one website has even lowered the price of the electronic vehicle from $199 to $179.  They're probably feeling the pressure from other online scam websites poaching their "customers".  Oh my.
Do People Fall for these Online Scams?
Yes they do.  Many of them.
We've become conditioned to believe the Internet is the place to go for "Deals and Steals".
We've been conditioned to believe if we don't like what we purchased for any reason, we can simply return it.
We've been conditioned to believe if we give out our credit card to the wrong people, we're protected by the credit card companies.
Additionally, if you click on one of these ads and are taken to the website, Facebook will show you MORE and MORE of these type of "Sponsored Ads".  Facebook showed me an ad for a scooter, an ad for a camper, a ad for a bike.  I guess after clicking on one ad, I'm labeled as a "Sucker".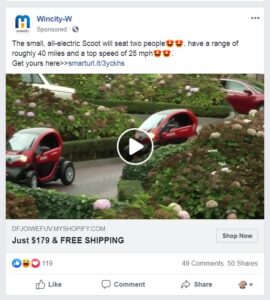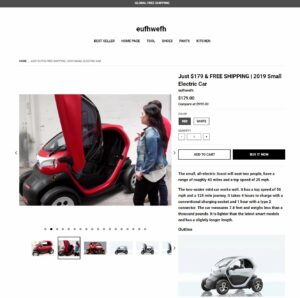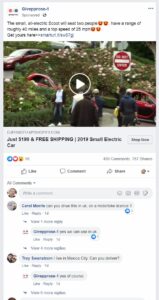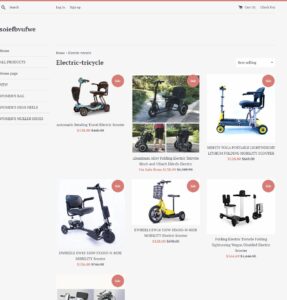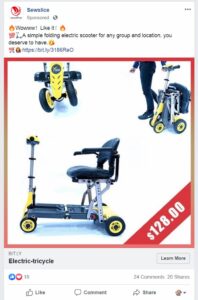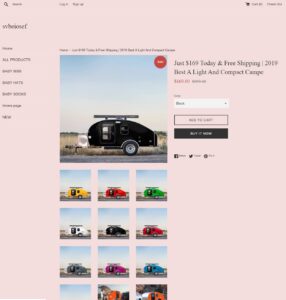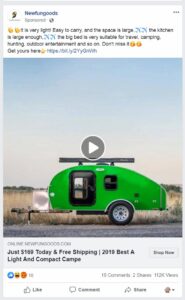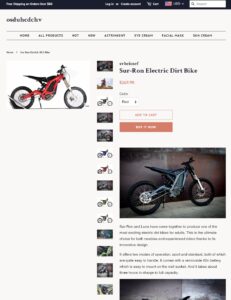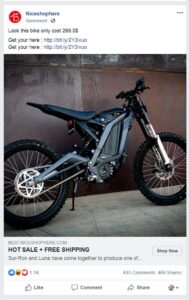 Look at all the Comments
If you scan through the comments on the Facebook posts, some people are asking normal questions about the product or shipping…and the scammers are answering the questions quickly and with respect.  While other comments are from people who see this scam for what it is, a scam and attempt to warn people not to fall for it.
What about Facebook and Shopify?
In some cases, Facebook and Shopify are benefiting from scams such as this.  Someone is paying Facebook for the "Sponsored Ads".  Are they using a stolen credit card to pay Facebook?  I'm sure they are.  Shopify may be making a commission on the credit card transactions or for hosting the website.
Until websites such as Facebook or Shopify or the credit card merchants are held to a higher standard of safety and security, these type of scams will be hard to stop.
If it's Too Good To Be True?
Remember, if it seems too good to be true, it probable is.  Stay away from scams like this.  Warn your friends.  Hide your credit cards.  Report the posts to Facebook.  Until people stop believing in scams such as this, the scammers will continue to scam people.