Is Amazon reselling used customer return products as new?  Let's hope not, but this story is concerning to say the least.
Imagine for a moment that you ordered your granddaughter a brand-new waffle maker on Amazon for Christmas and when she opens the package…SURPRISE…it's full of waffle dough stuck all over the inside.    This is exactly what happened to Brian McCarthy's family from California according to his post on Twitter.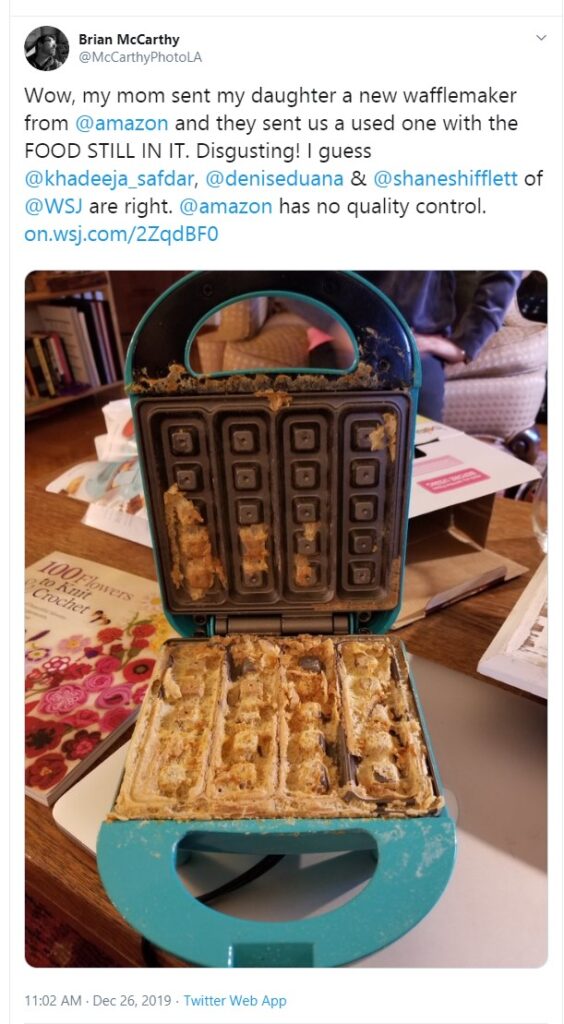 Maybe, the product was miss-labeled.  Maybe the product was a customer return they believed to still be new.  Maybe Amazon's customer return area opened the packaging and the waffle maker appeared new on the outside and they didn't take the time to inspect the inside.
With 1.9 million customer return packages shipped by UPS in a single day and many of these going back to Amazon, it's understandable how customers returns are "getting out of control" for Amazon and other online retailers.
It's estimated that $90-95 Billion worth of merchandise will be returned after the 2019 Christmas season.  Online customer returns have mushroomed into a tremendous problem for Amazon and for Amazon third-party sellers (3PS).  We call customer returns the "Silent Killer" for online merchants as many of them simply consider it a "Cost of doing business" that they ignore and write off.
In 2019 Amazon was caught red-handed trashing millions of dollars of product to make space in their warehouse for new product.  Amazon has also recently changed the rules for third-party sellers on how they can dispose of or refurbish their FBA customer returns.  Amazon has also been quietly building their Amazon Renewed program to help combat the issue.
What are online sellers doing to combat the drain on their profits from customer returns?
Online retailers (including Amazon) are starting to realize they can't ignore customer returns anymore and MUST DO SOMETHING ABOUT IT!  Savvy Amazon third-party sellers are taking matters into their own hands and partnering with Back-Track to help them recover their lost profits by refurbishing and reNEWing their customer returns back to a resellable state.   Most often these refurbished products will get resold to new customers on the Back-Track website, eBay or in local retail stores.  Sometimes they get sent back to Amazon FBA as refurbished products to be sold at a discount to full-priced new products.
2020 is the year many online retailers take charge of their customer return problem.  If you'd like help with taking charge of your returns, contact Back-Track to get started today!
Let's Get Busy!
Ready to have Back-Track reNEW your Amazon customer returns?
Simply send us your contact information and our friendly staff will tell you more details about pricing, products and how to get started.  NO FEE TO START!
[contact-form-7 id="875″ title="New Client Form 1″]